There are two main ways to add audio:
When you are starting a new project

Within the project Editor
When Starting a New Project:

You can select your clip by scrubbing through and listening to your episode (1) and by dragging the blue highlighted selection (2). You can pick your audio's in/out points by clicking and dragging on the edges of the highlighted blue selection or by entering the timecode on the lower left side of the clipper (3). Additionally, you can zoom in to refine your selection by using our zoom option (4).
After you've selected your clip, hit next (5).
Tip: If you know (or have an idea of) what clip you're going to create an audiogram for while you're editing your episode, you could always export that clip as a separate audio file and upload it to Headliner in order to skip clipping your audio on our site, and speed up creating a video.
Within the Editor:
The ways to trim audio are the same, but the editing window is slightly different. Again, the most accurate way of selecting a portion of your audio is when you first import it and manually input the start and ending time in the boxes pictured below. You can choose the time down to a fraction of a second.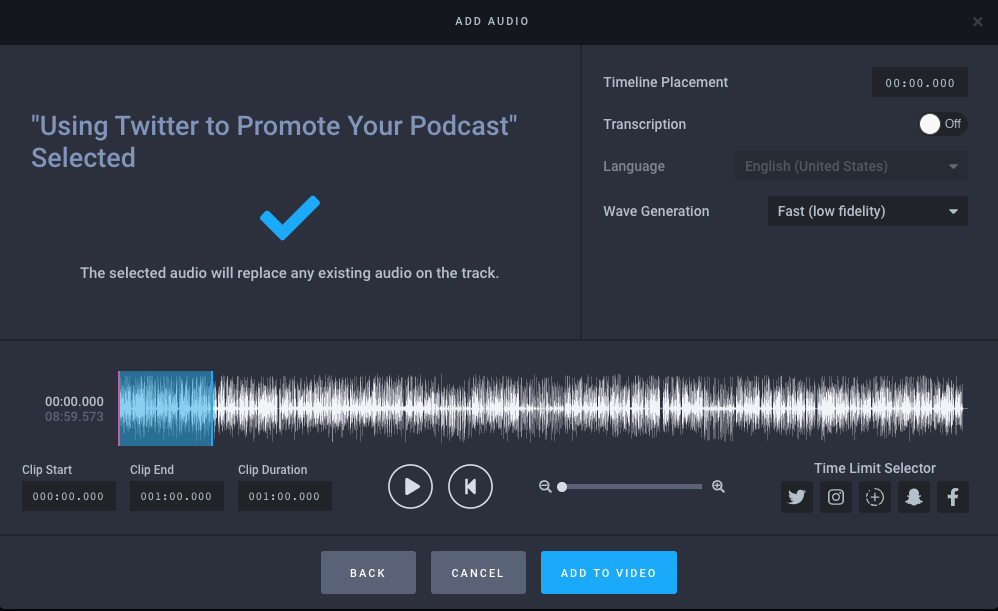 If you're interested in how to trim audio within the audio timeline quickly, check out this article: How to Trim/Edit Audio in the Timeline.