Automations are the latest way to create videos for a podcast on Headliner. With it, you'll be able to automatically have clips/full episode videos for your podcast generated for you and your show. With Headliner and its automations, you'll be able to promote the latest episode of your show using video without needing to create or select the clips yourself!
How to use Automations:
1. Getting started and setting up your feed
The first step in getting automated videos is getting your show signed up for automation. You can do this by entering the Projects Page and clicking on the blue plus button located on the left side of the screen.

Alternatively, you can also create an automation from our Create Page by clicking on the Automatic Audiogram wizard.

Then, find your podcast using our podcast search box (if you cannot find your show, please contact support@headliner.app and send us a link to it on Apple Podcasts or a link to your RSS feed)

Doing this will add your podcast to your profile, which can then be signed up for automated videos. To do this, click on your podcast artwork on the projects page and click on the button labeled new to create a new automation queue for your show.

You'll then be able to select your video type. There are two different types of videos that can be created. They are:
Short Videos: Clips from your show that are perfect for sharing on social media. Short videos can be configured to be anywhere from 15-60 seconds long (determined in increments of 15).
Long Videos: Full-length podcast videos that can be shared on YouTube and any site that supports longer-form video. Long videos can be up to 2 hours long and are created whenever you release a new episode of your podcast.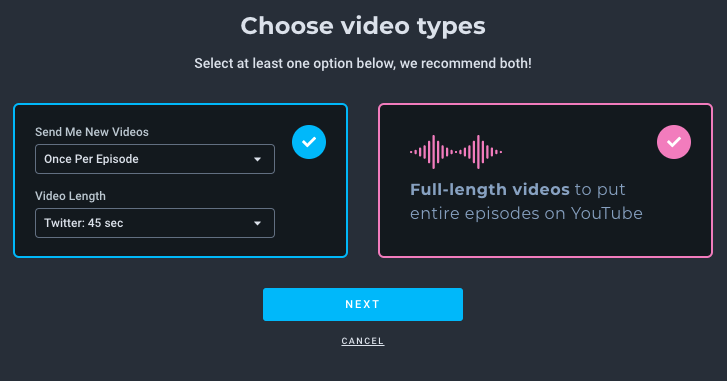 Next, you'll be able to select the aspect ratio of your Automation. Different aspect ratios are optimized for different sites.
Landscape videos are optimized for YouTube and other video sites.
Square videos are optimized for social media (Instagram, Twitter, Facebook, LinkedIn, etc)
Vertical videos are optimized for social media stories (Instagram Stories, IGTV, Facebook Stories, Snapchat Stories, YouTube Stories, etc)

You will then be asked to select the template that you would like your Automation to use, which include any of the personal templates that you've saved your chosen aspect ratio.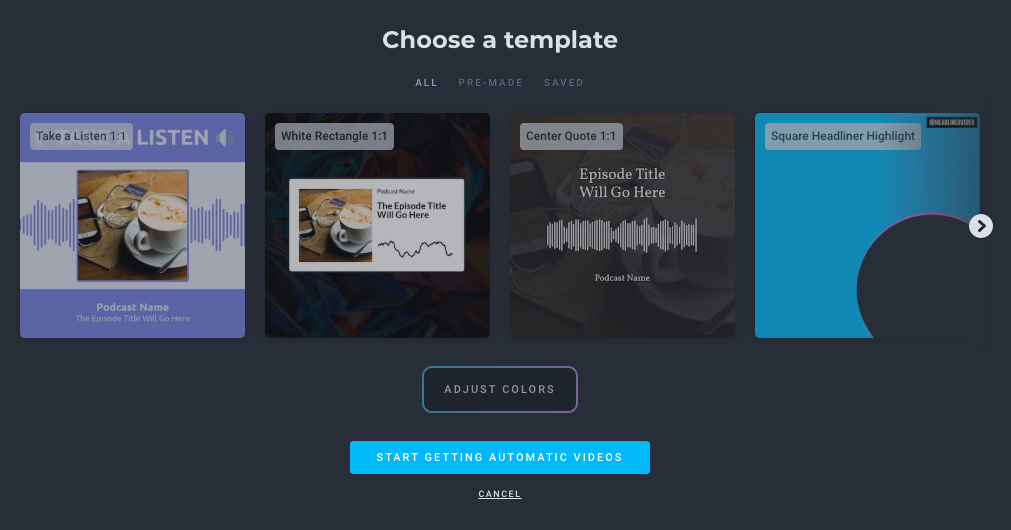 After selecting a template, you'll be able to click "start getting automatic videos" and start having your Automation emailed to you, as well as made available on the automation page and your projects list!
2. You'll then be able to download/share your video, or select a new clip from your video.
To select a new clip from your video, click "Choose Another Clip From This Episode" on the Download page.
You'll then be able to select a different clip from your episode, either with the Automation wizards suggestions or manually, before exporting your video again.
The product is in BETA, so we welcome your feedback here.