The Audiogram Wizard allows you to upload or select a snippet from up to 2 hours of audio (mp3 or wav), pull a clip from your episode, and create a video out of your show that can then be shared on social media.
Step 1: Uploading/selecting your podcast.
On the first page of the audiogram wizard, you'll be able to manually upload your podcast episode (mp3 or wav) to create a video or select it from our Find A Podcast search.

Note: If you can't find your podcast using our search, contact support@headliner.app and link us to your RSS feed to have it added.

Step 2: Clip your audio (10 minutes max)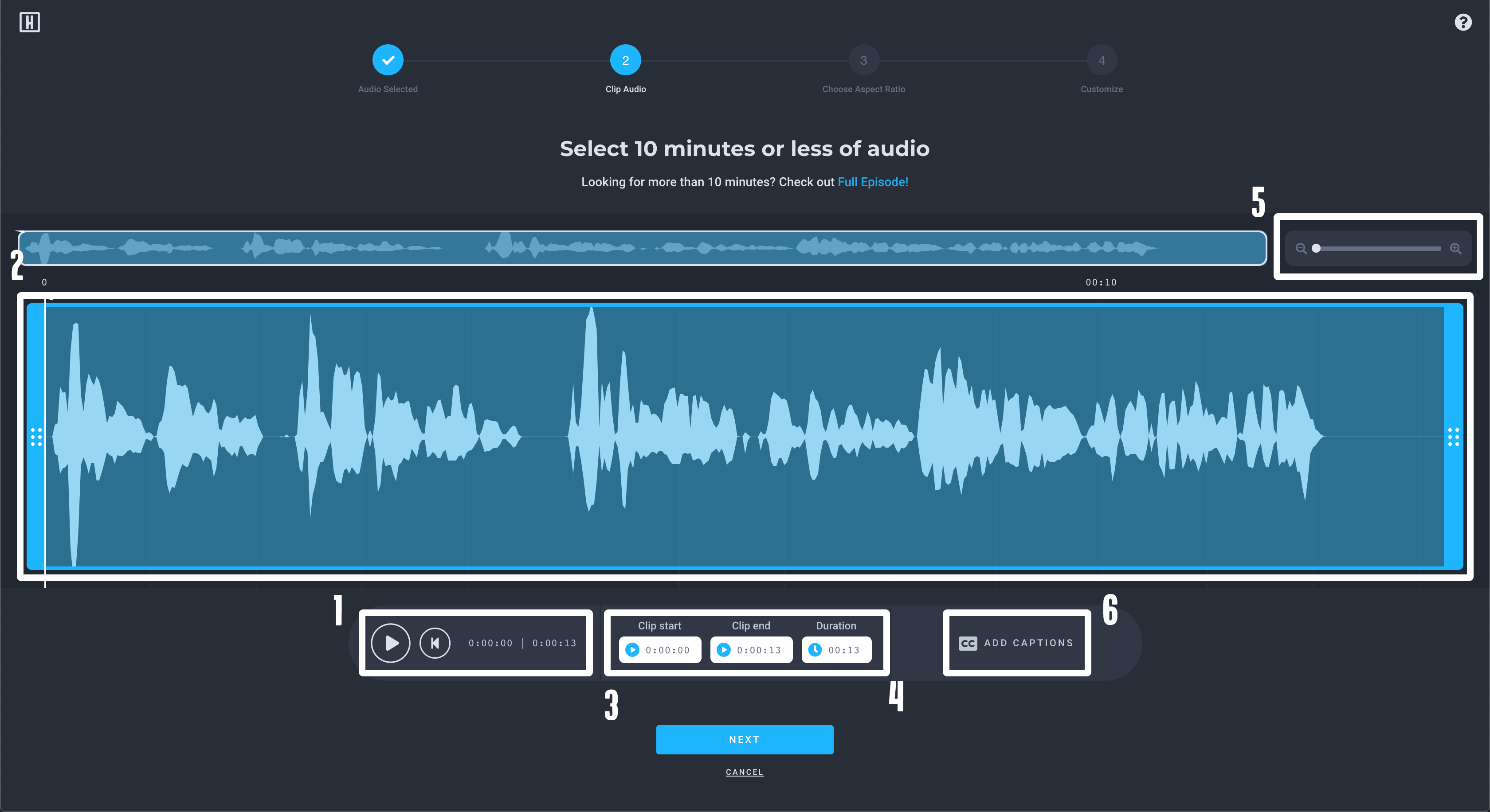 You'll then be able to select a section of your podcast that you would like to turn into a video.
You can select your clip by scrubbing through and listening to your episode (1) and by dragging the blue highlighted selection (2). You can pick your audio's in/out points by clicking and dragging on the edges of the highlighted blue selection, or by entering timecode on the lower left side of the clipper (3), or by inputting a duration from the lower right side of the clipper (4). Additionally, you can zoom in to help refine your selection by using our zoom option (5).
After you've selected your clip, you can enable captions for your selection from under the clipper (6) before hitting next.
Optional: Enable transcription/select transcription language.
Tip: If you know (or have an idea of) what clip you're going to create an audiogram for while you're editing your episode, you could always export that clip as a separate audio file and upload it to Headliner in order to skip clipping your audio on our site, and speed up creating a video.
Step 3: Choose the aspect ratio
Choose the aspect ratio that you would like your video to have. Different aspect ratios are optimized for different websites/apps.

Landscape: Best for websites like YouTube and Vimeo
Square: Best for social media newsfeeds (Instagram, Twitter, Facebook and LinkedIn)
Vertical: Best for Instagram Stories, Snapchat and TikTok
Step 4: Choose a template (optional)

Step 5: Customize your audiogram
On the final page of the audiogram wizard, you'll be able to customize and personalize your video before being taken to the editing timeline to refine/export your project.

Wave Style: Determines the type of waveform that will appear on your project
Wave Position: Changes the location of your waveform. You can customize the placement of your waveform by clicking and dragging on the waveform in the preview on the right side of the screen.
Wave Generation: Changes the quality of your waveform. We recommend leaving this on Fast (low fidelity).

Text: Allows you to add a text box to your audiogram that will appear for the duration of your video. You'll be able to customize your text box further/add additional ones from the timeline.

Background: Allows you to add artwork to your video, or select a background color.
Tip: The image you add to your audiogram can be as creative as you want it to be and can be a custom image you've created on an external site/app.

Progress Animation: Adds a progress bar to your video showing.
After you've finished setting your video up, you can continue to edit your audiogram from our advanced editor, or you can click "Export Now" to have your video get processed.
Step 5: Edit audiogram (Optional)
Once you get to the timeline, you'll be able to continue editing your audiogram in case you wanted to change any of the settings from the previous step. You'll also be able to upload additional images, add some video to your project, and edit/update your transcript if you included transcription in your video.

After you've finished finalizing your video, click Export.

Step 6: Download/Share your audiogram
Once your video has finished exporting, you'll be able to visit the download page in order to download and share your video, as well as view/share your video from our mobile app.

For a guide on how to download/share your exported video, click here.