Headliner's Auto Generated Transcripts are powered by Google, which offers some of the best transcription tools on the internet. That said, you'll likely still have a bit of editing to do to your transcript once you get to the timeline, in order to fix spelling/grammar errors, apply a custom text style to your video, or retime some of your sentences to more accurately fit your audio.

Here's how to edit your transcript on the timeline: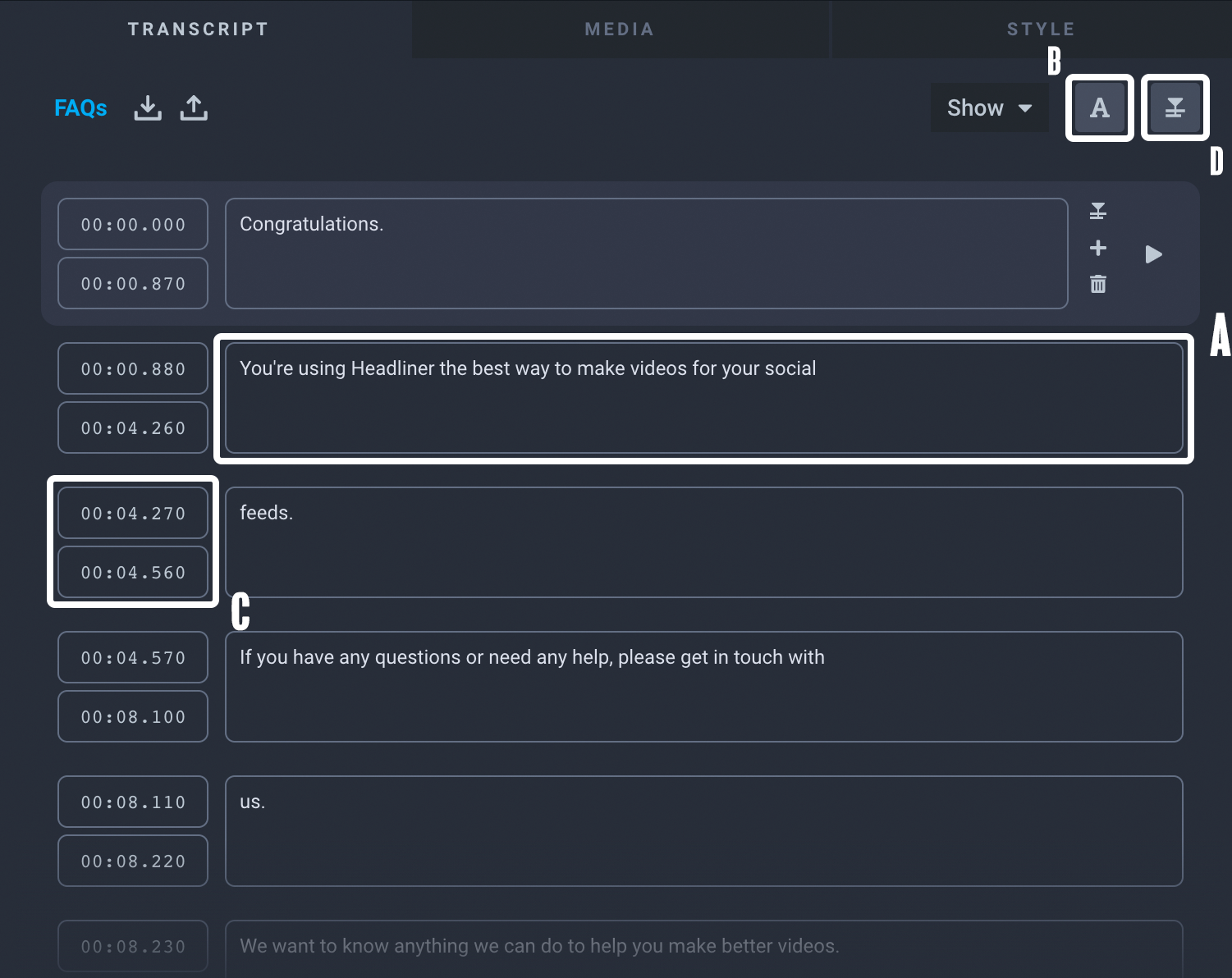 Editing text (A): In order to edit the text of your transcript, click on the text boxes on the upper left side of the timeline. From there, you'll be able to copy/paste text between different boxes, manually input or change words in your sentences, and add/delete a text box entirely if you need to.

Applying a Custom Font/Style to your text (B): The text style can be changed by clicking on the blue style button to the right of the window. If you've already edited and re-paced your text, remember to lock the caption times in the style window before saving any of your style changes. This tells Headliner not to re-chunk or re-time your sentences and seemingly undo your hard work.
Re-timing your transcript (C): In order to re-time your transcript, you'll have to work with timecode. While you're watching your video, you can read the timecode by looking on the left side of the screen. You can also create a new text box by clicking on the plus sign beside the text box that would play before you want your new box to appear. The new text box will then fill any gap the timecode that's present. Using this, you'll be able to make specific edits to your transcript in order to make things as accurate as possible.

Copy captions to the timeline (D): If you would like to copy your transcript onto the timeline, you can do so by clicking on this button. Copying your transcript to the timeline automatically hides captions on the transcript tab and creates an identical copy of it on the bottom of your project. This copied version of your text can then be manipulated and edited in the same way that standard text can be worked with. For more info on editing text, please visit this guide.